Ss Michael & John's Feast Day
24 June 2019
It's very common for a Catholic school to be named after a saint. At Ss Michael and John's school and parish in Horsham we are lucky enough to have two patron saints. St Michael the archangel and St John the evangelist are the two saints who have been chosen as patrons for our school and parish. This dates back to 1876 when Fr John Doyle Sullivan became the first parish priest in Horsham and named our parish after his original parish in Dublin, Ireland.
While it's an honour to be named after two such distinguished saints, our school has not had the opportunity to celebrate their saints feast day like other schools do. Obviously St Michael (29th September) and St John (27th December) have separate feast days, both of which fall in the school holidays.
This year we decided as a school that we needed a feast day to pay homage to our saints. So we created our own special day. October 11 became the first ever Ss Michael & John's Feast Day. We celebrated a prayer liturgy as a school, learnt about our patron saints and shared our lunches together as learning communities. The teachers also provided a treat for each of the students.
The highlight of the day however was the Ss Michael and John artwork competition. Each student was challenged to create an artwork depicting both St Michael and St John in the one artwork. Countless artworks over the centuries have depicted both of our saints, but never together. Our students were challenged to create something unique.
Our overall winner was grade 6 student Sean McDonald. His prize was to have his artwork enlarged onto canvas and displayed permanently in the foyer of our school. Year level winners were also announced and now have their artworks proudly displayed in each of their learning communities.
We will now look to continue this tradition at Ss Michael and John's in the years to come. Most importantly, the students now have a greater understanding of the history of our parish and the lives of the saints which we are proudly named after.
Michael Rowe
Deputy Principal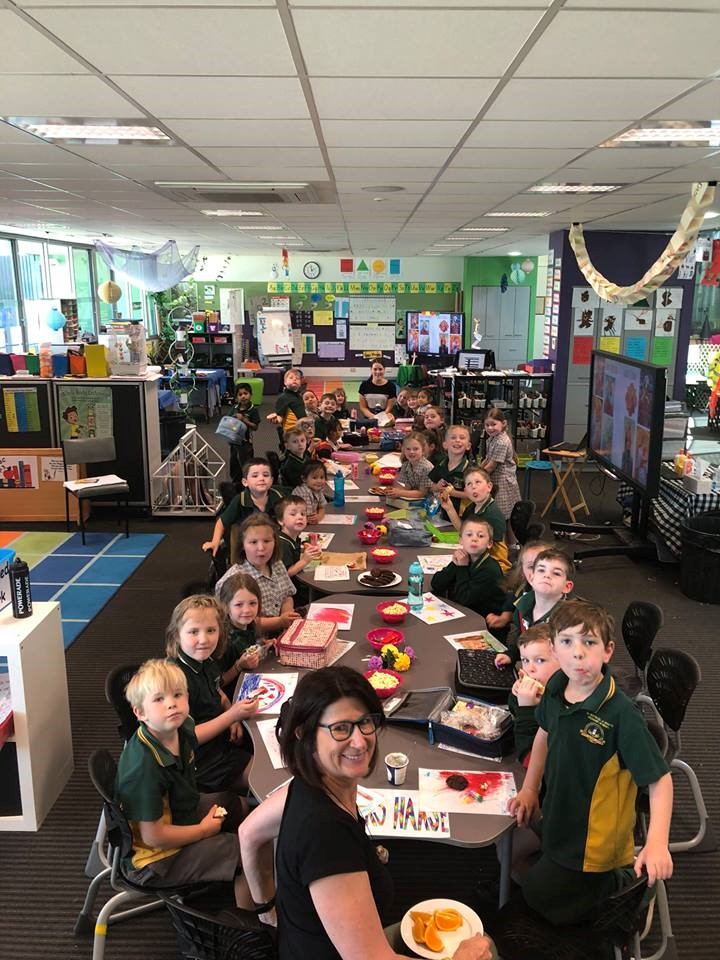 Mrs Tina Haase and Miss Rhiannon Marr celebrating the 'feast' with the foundation students.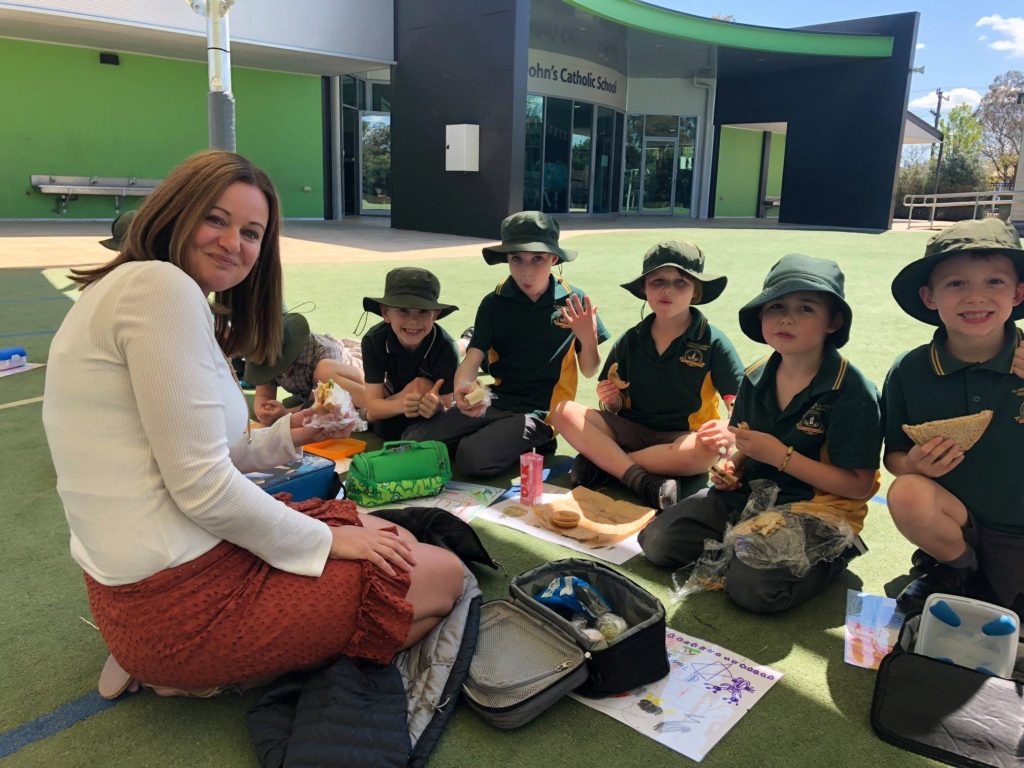 Mrs Simone Consedine with some of the grade 1/2 students.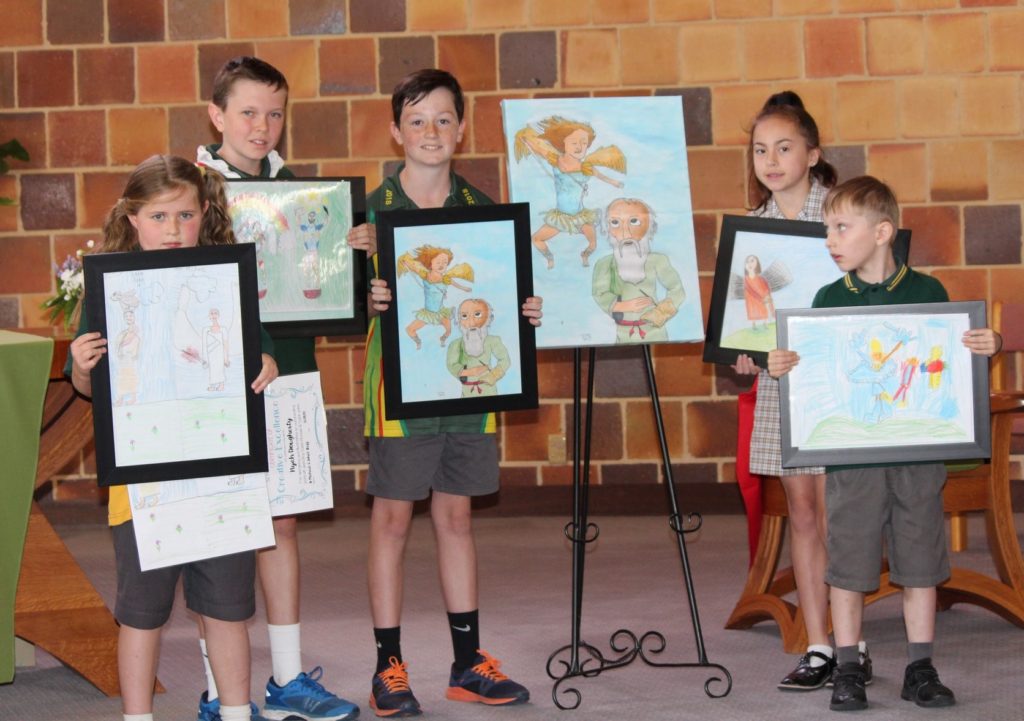 L-R- Nyah Dougherty (Gr 2), Jasper James (Gr 6), Sean McDonald (Gr 6), Lily Jones (Gr 4) and Chrys Finn (F) with their winning art works.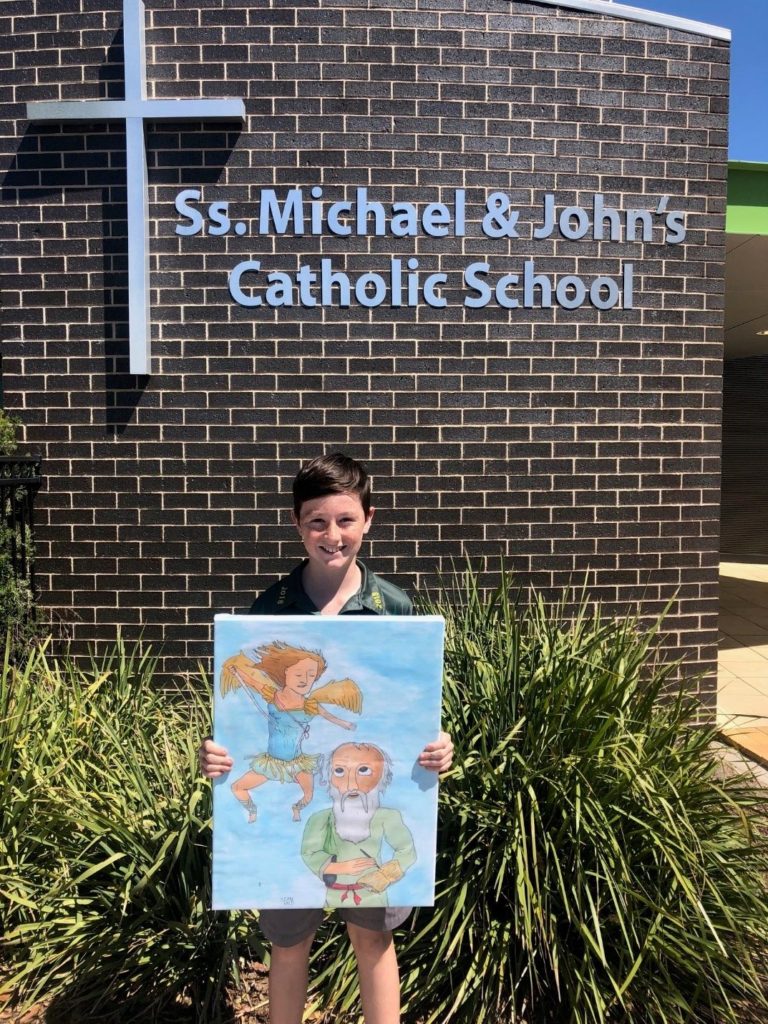 Sean McDonald (Gr 6) with the Overall winning picture.